Compliance and Risk Management
Structure on Risk Management
To protect investors and implement the investment management business appropriately, the Asset Manager of JMF shall in principle execute operations related to asset management for investment corporations as its clients, faithfully and with the care of a good manager in accordance with the purposes of the investment management business. The asset manager has classified the major risks associated with asset management into investment management risk, clerical work risk, system risk, etc. and is striving to cope with and continuously reduce such risks through the following activities.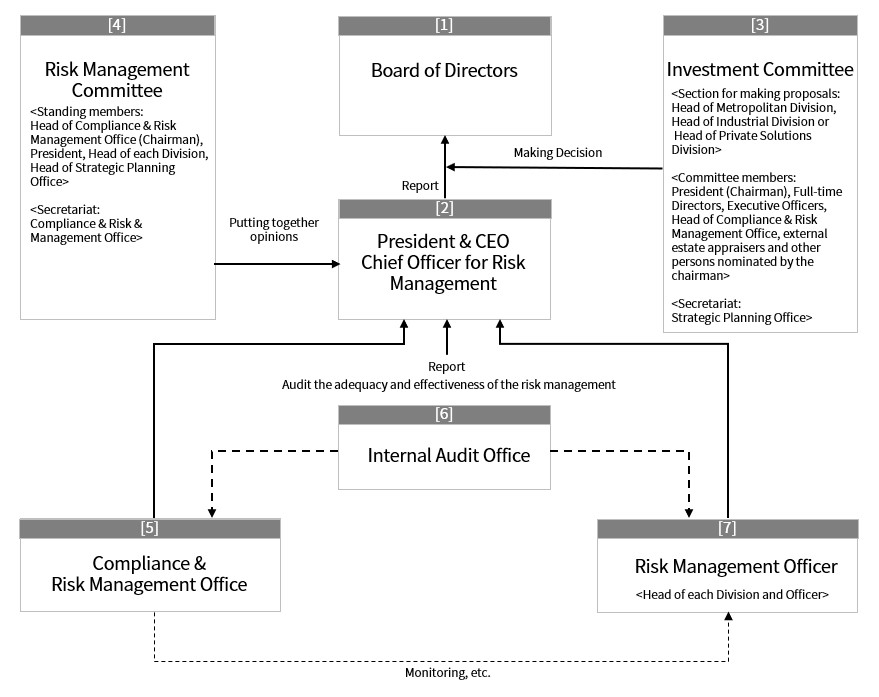 [1] Board of Directors
Understanding of the overall management, etc

[2] President & CEO, Chief Officer for Risk Management
President & CEO: Supervision of the overall risk management, etc.
Chief Officer for Risk Management: Execute necessary measures to properly manage risks
[3] Investment Committee
Examines, discusses and makes decisions regarding overall risks affecting the portfolio as a whole (e.g. acquisition, disposal and management of assets by the investment corporations, investment policy and standards, management policies and standards, budgets, funding, etc.)

[4] Risk Management Committee
When required, identifies, examines and formulates responses and policies for matters that pose major risks (excluding those matters that are dealt with by the Investment Committee)

[5] Compliance & Risk Management Office
・Accumulating risk information through, but not limited to, the management of operational accidents and the review
 of the approval documents
・Plans and makes proposals concerning risk management for the company as a whole
・Monitors, evaluates and analyzes the extent to which risk management is in place and functioning
・Runs the Risk Management Committee

[6] Internal Audit Office
Planning and implementation of internal audit
[7] Risk Management Officer
・Person responsible for managing major risks, etc. in his/her department
・Reports the state of risk management to the Risk Management Committee