Oct. 10, 2017 Property
Grand Opening on October 7!
Oyama Yuen Harvest Walk
Environment improvement work for
Oyama Yuen Harvest Walk
(Oyama-shi, Tochigi), which is owned by the Japan Retail Fund Investment Corporation, has been completed and a grand opening was held on Saturday, October 7, 2017.
Unveiling of HARVEST PLAZA, a new green outdoor plaza where people can interact with nature
Based on the concept of "SHOPPING IN THE PARK," this facility was designed so that people can enjoy shopping while spending time in a pleasant outdoor space. Part of the parking lot has been transformed into a 4,200 m2 outdoor plaza lined with the official trees of Oyama-shi to express the changing seasons, along with various playful types of outdoor furniture.
Twelve new stores open at the complex, some for the first time in Tochigi, and six stores are refurbished
With the new creation of the outdoor plaza as part of the environment improvement work, twelve new stores including TSUTAYA BOOK STORE (book café) "Wakuwaku Hiroba" (grocery store for locally-produced vegetables), Francfranc (interior goods store) have joined. (Some stores will open in the near future.) A number of these stores are opening for the first time in Tochigi. The tenants of this shopping complex will comprise a highly diverse range of 70 stores, evolving Oyama Yuen Harvest Walk into an even more comfortable facility that caters to customers from all age ranges. Six existing stores also underwent refurbishment during this construction project.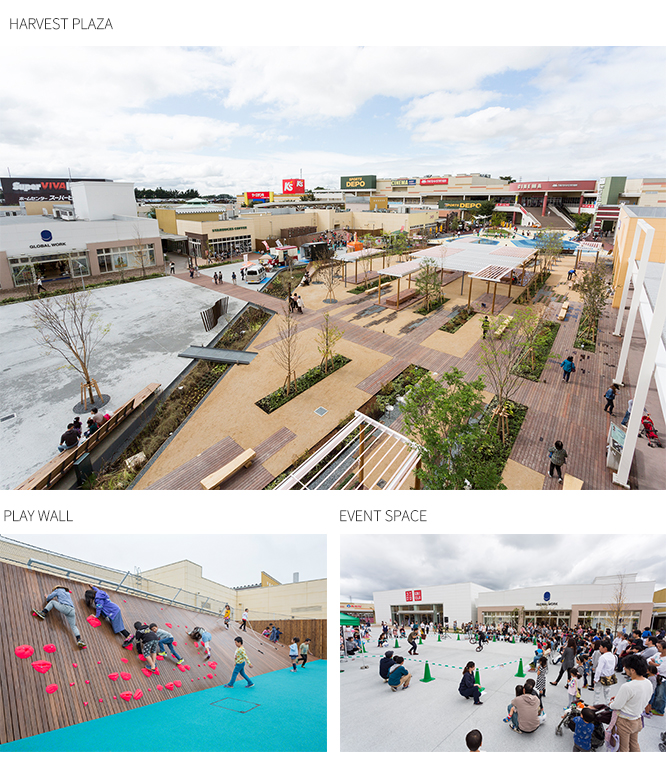 Information
Japan Metropolitan Fund Investment Corporation
KJR Management
Tel: +81-3-5293-7081