Apr. 04, 2018 Property
Notice Concerning Renewal Plan at mozo wonder city
Japan Retail Fund Investment Corporation ("JRF") hereby announces that it decided to conduct a renewal project at "
mozo wonder city
(Nishi-ku, Nagoya-shi, Aichi)" (the "Property") from the spring to the winter of 2018, as the second renewal work following the first one implemented in September 2015.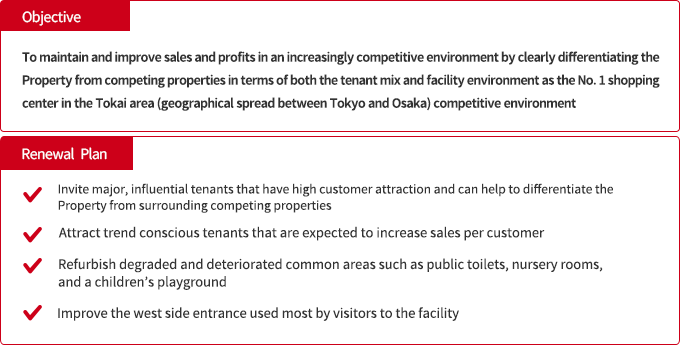 Background of the Renewal Plan
The Property has continued to see a steady increase in sales since its opening in April 2009 as a large-scale shopping center boasting No. 1 sales in the Tokai area. In September 2015, JRF conducted a large-scale renewal of the Property involving the replacement of approximately 70% of the tenants (including transfer and renovation) and the introduction of an environmental design generating a park-like atmosphere in the entire facility under the concept of "mozo park," in an effort to create a facility that is differentiated from surrounding competing properties.
Since around the time of the renewal, a number of large-scale commercial facilities have newly opened or increased their floor space in the Tokai area, and new supply is also expected to continue going forward. JRF will, therefore, be conducting the second renewal work for the Property in the spring to the winter of 2018, when fixed-term lease agreements with tenants, especially those occupying large lots, are expiring, with the aim of maintaining and improving sales and profit even in an increasingly competitive environment as the Tokai area's No. 1 shopping center.
Tenant Replacement
Multiple new tenants that can help to differentiate the Property from surrounding competing properties will be invited mainly to large-lots where no tenant replacement has previously occurred since the opening of the facility in order to increase customer attraction. A number of major boutique shops and other trend-conscious tenants will also be invited in an effort to increase average sales per customer.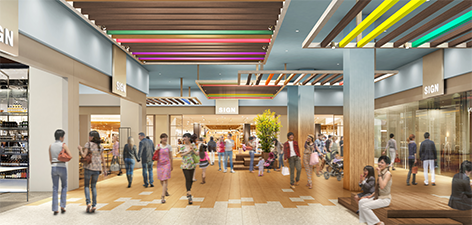 Refurbishment of Common Areas in the Facility
Along with the renewal work, a refurbishment work will be conducted for common areas of the Property, such as public toilets, nursery rooms, and a children's playground, because wear and tear has become noticeable nine years since opening, and the Property has deteriorated compared with large-scale commercial facilities that have opened nearby in recent years.
Improvement of the West-Side Entrance
A roof will be set up for rainy weather in the west-side entrance of the Property as it serves as the main entrance for customers using Kamiotai Station on the Meitetsu Inuyama Line and the Tsurumai Subway Line and is used mostly by visitors to the facility. An open space will also be newly created by transferring a part of the bicycle parking lot. The resting place will thus be expanded in response to many requests from customers to set up such a space.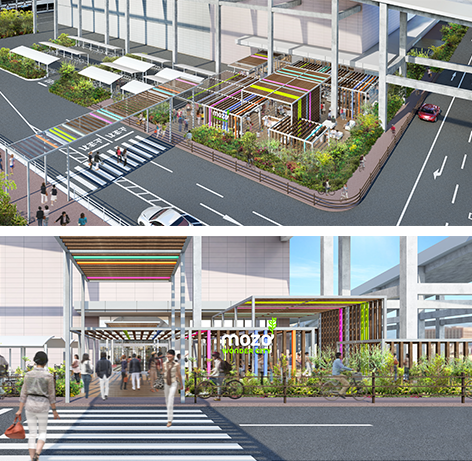 Planned date of renovation opening
March 16, 2018: Eight new shops and eight renovated shops opened
April 20, 2018: Five new shops to be opened
From the summer to the winter of 2018: New, transferred, and renovated shops to be successively opened
Refurbishment works for common areas in the facility and the west-side entrance scheduled to be completed in October 2018
For the renewal, please see the following notice:
mozo wonder city website
Information
Japan Metropolitan Fund Investment Corporation
KJR Management
Tel: +81-3-5293-7081