Dec. 18, 2017 Property
Notice Concerning Renewal Plan at Abiko Shopping Plaza
Mitsubishi Corp. – UBS Realty Inc., the asset manager (the "Asset Manager") of Japan Retail Fund Investment
Corporation ("JRF"), decided to conduct a renewal project (the "Renewal Plan") at
Abiko Shopping Plaza
(Abiko-shi, Chiba) (the "Property").

Background of the Renewal Plan
he Property is a retail complex featuring Ito-Yokado as the anchor tenant and specialty tenants offering fashion and services, etc. The Property has maintained stable sales mainly in daily necessities and food products underpinned by a dense population in the surrounding area, which has both long-standing detached houses and newly developed large-scale apartment complexes.
However, in recent years, both Ito-Yokado and specialty stores have been affected by the increasing number of large-sized commercial facilities being opened in the vicinity, resulting in an urgent need to improve the situation. Therefore, discussions were held with Ito-Yokado to revitalize the entire facility and the replacement of specialty stores was also planned. With the aim of meeting daily needs and enhancing local community functions, the sales area of the Ito-Yokado Abiko, the anchor tenant, has been recently redesigned. In addition, the number of direct lease tenants that JRF can directly manage has been expanded, and there are plans to attract new tenants as well as relocate or extend highly specialized tenants that fit with the daily needs of local residents. As such, an announcement has been made regarding this renewal.
Floor configuration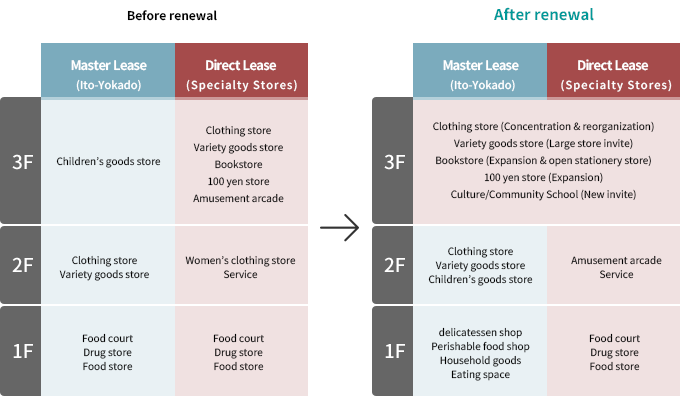 ※As the direct lease part involves a lease contract between JRF and each individual tenant that will lease the property (end tenants), JRF can directly implement management including reviewing the future tenant mix.
Shared area construction image
Construction of a community space in the outdoor plaza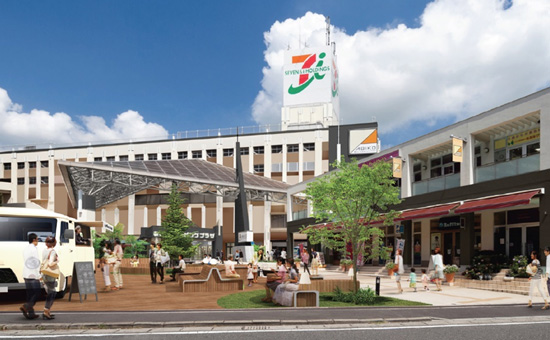 New construction of an open lounge in the 3rd floor shared area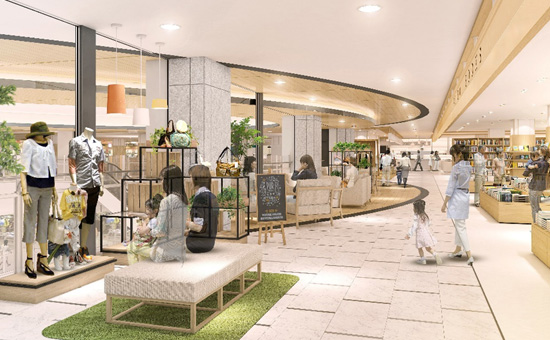 (Note) The above image is based on the preliminary design.
Planned date of renovation opening
The end of April 2018
※In line with this renewal, Ito-Yokado will also redesign its selling area from December 2017 through January 2018.

Information
Japan Metropolitan Fund Investment Corporation
KJR Management
Tel: +81-3-5293-7081