Sep. 08, 2017 Property
Renewal Opening of Kamishin Plaza on Friday, September 15, 2017
Japan Retail Fund Investment Corporation ("JRF") will reopen its renewed
Kamishin Plaza
(Osaka-shi, Osaka) on Friday, September 15, 2017.
Concept
Kamishin Natural Style
The reopening of Kamishin Plaza follows the renovation of its first basement floor carried out in June 2016. There are eight new stores, three stores which have been relocated or extended, and two stores which have been redesigned. As part of this renovation, the common-use spaces on the first and second floors have also been redesigned to evolve this property into a place where people of all ages, from young to elderly people, can feel even more comfortable.

Redesigned environment on the 1st and 2nd floors
Following the concept of "Kamishin Natural Style" used in the renovation of the first basement floor, the renovation for the first and second floors follows a natural design of white tones accented with wood and greenery.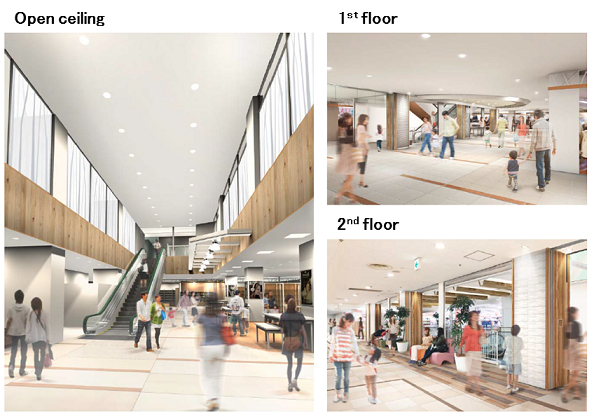 First large-scale renovation of the 1st and 2nd floors in 12 years
For the first time in 12 years since it was renovated as Seed On Plaza in October 2005, there will be a major replacement of tenants on the first and second floors. This tenant replacement follows the theme of "being a life partner of everyone in the family" with the aim of being a one-stop retail property that supports the lives of everyone in the local neighborhood. The property has eight new stores, including the main baby and children items store Nishimatsuya, the family shoe store ASBEE fam, and the amusement park AMUSE PARK which can be enjoyed by all three generations. In addition, existing stores have been relocated, extended, or redesigned to give them new looks.
Planned date of renovation opening
September 15, 2017

Information
Japan Metropolitan Fund Investment Corporation
KJR Management
Tel: +81-3-5293-7081