Jul. 18, 2017 Property
Hybrid Hotel with Co-working Space Opened in G-Bldg. Kyoto Kawaramachi 01
Japan Retail Fund Investment Corporation (JRF) announces opening of The Millennials on July 14, 2017, a capsule hotel for the millennial generation located within JRF's
G-Bldg. Kyoto Kawaramachi 01
in Kyoto-shi, Kyoto. To maximize the property's location in a bustling area of the city suited to tourism and business alike, JRF changed the use of the space from karaoke rooms to hotel floors, and successfully attracted a hotel tenant that better matches with the current surrounding area. The new lease has improved both competitiveness and profitability of the property.
Lifestyle Facility for the Millennial Generation
The tenant in this property is Global Agents Co., Ltd., a developer of apartments targeting millennial renters based on the new concept of a "social apartment" that enables more enjoyable interaction between residents. The Millennials is a new type of minimal hotel developed from Global Agents' experience with social apartments. It matches perfectly with the minimalist lifestyle choices of the millennial generation, as people who make rational decisions between ownership and sharing, who have an acceptance of diverse values, and who are looking for a casual and carefree lifestyle
Millennial generation: This typically refers to the generation of people born since 1980, which currently accounts for a third of the world's population. As millennials represent a considerable portion of consumers going forward, their spending habits and values have recently become the subject of much research.
Minimalist lifestyles: The number of people looking for a minimalist lifestyle has grown recently, with a desire to reduce the amount of personal possessions as much as possible while living with only what is necessary. Based on the concept that people can live richer lives by owning only what they absolutely need, this new lifestyle has grown within the mass-production, mass-consumption society.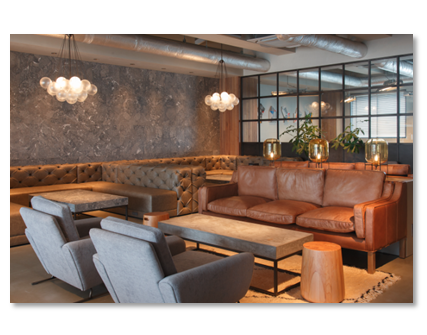 The Millennials: Features
This hybrid hotel is unrestricted by existing definitions for hotels, offices and residences, and is designed with practicality, diversity and freedom in mind.

Evolved from Japan's capsule hotels that attract global interest, with guest pods having outstanding livability, functionality and innovation
A more complete range of common areas offers a new hotel experience that encourages people to spend time in common areas before bed, which is unlike the older capsule hotel model offering sleep only
Enabling interactions between a diverse range of users, from domestic and overseas travelers to business people and locals
Market and Location
The property faces Kawaramachi Street in the Shijo-Kawaramachi area, Kyoto's leading shopping and entertainment district attracting inbound visitor consumption.
Located in Kyoto's most prominent commercial district with a collection of large commercial facilities, street-level stores of popular fashion brands, entertainment facilities and restaurants
Located in an area alive with inbound consumption through foreign tourists in recent years, adding to its traditional domestic visitors
Perfectly located for visiting Kyoto, surrounded by famous sightseeing spots such as Nijo Castle and Kyoto Imperial Palace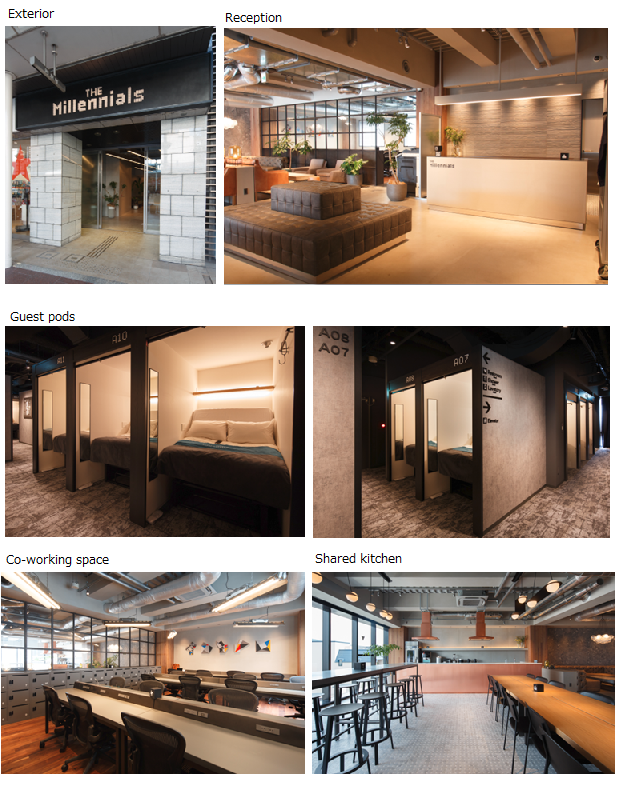 The Millennials: Overview
Location : G-Bldg. Kyoto Kawaramachi 01, 235, Yamazakicho 2-chome, Sanjo-sagaru, Kawaramachi-dori, Nakagyo-ku, Kyoto-shi, Kyoto
Access : 5-minute walk from Kawaramachi Station on the Hankyu Kyoto Line, Sanjo Station on the Keihan Main Line, and Sanjo Keihan Station on the Kyoto Subway Tozai Line, and 4-minute walk from Kyoto Shiyakushomae Station on the Kyoto Subway Tozai Line
Number of guest rooms: 152
Room tariff: 6,000 yen (approx.)



Refer to the following for more details on the tenant.(Japanese)

Information
Japan Metropolitan Fund Investment Corporation
KJR Management
Tel: +81-3-5293-7081